Dr. Matt Caine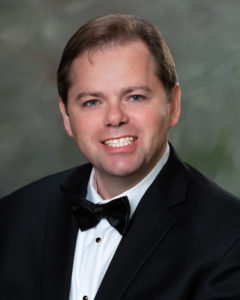 The Savannah Philharmonic welcomed new chorusmaster Dr. Matthew Caine, a renowned regional musician, who recently assumed the role previously held by Dr. Monica Harper Dekle.
Dr. Caine brings a wealth of knowledge and experience to his new role in leading the Philharmonic's all-volunteer chorus which performs with the orchestra throughout the season. He is the Director of Music Ministries at Wesley United Methodist Church at Frederica, where he conducts multiple choirs and instrumental groups and oversees a large music program. Prior to his arrival in Frederica, St. Simons Island, Caine was the director of music at First Presbyterian Church in St. Petersburg, Florida, and artistic director for the professional chamber chorus Concordia Vocal Ensemble. In addition to serving as a conductor for church, community, professional, and symphonic choruses, Caine has served as interim director of choral activities for St. Petersburg College and Allen University. He also taught on the faculties of Claflin University, the University of South Carolina, and the University of South Florida.
Caine's principal area of research is Bulgarian choral music. He has created performance editions of and has conducted the U.S. première of over 30 pieces of Bulgarian choral music. In 2009, Caine was awarded a Fulbright by the United States Department of State to conduct research in Bulgaria. In the same year, the United States Department of Education awarded him a Foreign Language Area Studies Fellowship to attend the Russian and East European Summer Intensive Language Institute at the University of Pittsburgh and New Bulgarian University in Sofia.
Caine has a Doctor of Musical Arts in conducting from the University of South Carolina, a Master of Music in choral conducting and vocal performance from the University of South Florida, a Master of Music Education from Samford University and a Bachelor of Music from Birmingham-Southern College.